Do you own an RV? Interested in learning how Camplify can help you turn your caravan, camper or motorhome into $5000 - $35,000 per year? Learn more about how Camplify works for owners here


With its idyllic, palm fringed beaches, its sub-tropical rainforest and its unique everglades system, Noosa in Queensland has all the natural attractions well and truly covered. Throw in boutique shops, ultra-fashionable bars and mouth-watering eateries and then sprinkle in some juice bars and raw food cafes and you've discovered the ultimate weekend break.


Just one and a half hours north of Brisbane, this buzzing lifestyle resort is chic, hip and trendy all while maintaining the vibe of a chilled out beach resort. It is just as great for families as it is for couples or girl's holidays – there are plenty of things to keep you busy whatever your interests. Grab your
backpack
, some sunscreen, a hat and your sunnies and take a trip to Noosa!

1. Hire a stand up paddle board


Noosa's canals make a scenic place to try some gentle water sports. Hire a stand up paddle board or kayak from
Boardwalk Boats
and paddle around the waterways, checking out the incredible places to live that line the banks. Make sure you wear plenty of sunscreen and don't be tempted to wear your sunglasses because if you fall off, you will lose them forever


Image - Karen Bleakley



2. Explore the Noosa Everglades


Get out into the wilderness and visit the Noosa Everglades on a boat tour or a kayak tour with
The Discovery Group
. This unique ecosystem is the perfect place to unwind as you take in the views of the mirrored water and enjoy the serenity of one of Australia's best kept secrets. Be sure to keep your eyes peeled for wildlife. Tours often include a picnic lunch or a bbq so you can make a full day of it, or you can even take an overnight camping tour to really experience the magnificent lakes and waterways properly. Hire a van on
Camplify
if tent camping isn't for you.
Image: Noosa Everglades, Karen Bleakley



3. Take a hike


Explore Noosa National Park by filling your daypack with water, sunscreen, snacks and a towel (don't forget to wear your swimmers!) and head into the national park which is right next to Main Beach. Keep your eyes open for signs of wildlife – look up and you might be lucky to see a koala in the trees above. The walking track is well maintained and it is a fun walk for everyone, including little legs. Stop off and cool down at some stunning beaches on the way. If you are feeling more adventurous, you might want to go off track and clamber down the rocky hillside to the Noosa Fairy Pools – an Instagrammer's dream!


Image - Fairy Pools Noosa, Karen Bleakley



Don't have anywhere to stay? Hire a van to explore the area:


1. Drifters 2-Berth Toyota Hiace Campervan from $129/night.
Book now!
Image - Camplify
2. 5-Berth Jayco Eagle Pop Up Camper Trailer from $90/night.
Book now!

Image - Camplify



4. Go for a ride


Even if exercise isn't your thing, you can still get in the saddle.
Ecotekk
offer tours on electric bikes which are a lot easier to ride than they look! The bike's fat tyres mean you can even ride them on the beach. It's sustainable and a great way to burn off some energy in the fresh air. Check out the range of bike tours on offer. The beach rides are highly recommended!
Image - Bike Riding Noosa, Karen Bleakley



5. Chill out on Main Beach


One of the most beautiful beaches in Queensland, Main Beach faces north and offers gentle waves that are great for all the family. It is patrolled and is only steps away from the shops and restaurants. It's a great place to have a surf lesson, and an even better place to watch the sun go down!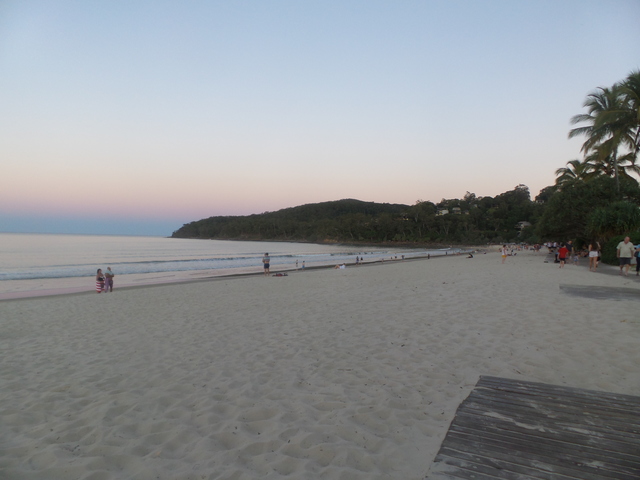 Image - Main Beach Noosa, Karen Bleakley



6. Shop til you drop on Hastings Street


Noosa is low-rise and leafy – the complete opposite of the Gold Coast - and at Noosa's heart is the fairy light-draped Hastings Street. This bustling street is packed with boutiques, cafes and restaurants. Whether you want to buy a new dress or some home décor, grab a croissant or a gourmet meal – there is plenty to temp you here. If you enjoy shopping, you won't be disappointed.


Image - Shopping in Noosa, Karen Bleakley



7. Eat all the food


Noosa is one of the best places in Queensland to eat out.


There's the beachfront Noosa Heads Surf Club serving up hearty dinners with amazing views across Main Beach. The iconic
Betty's Burgers
where you can enjoy the best burgers in town, not to mention their special 'concrete' (frozen custard) which you can have made to order with all of your favourites. Then there is the deli at
Providore on Hastings
(don't forget to grab your breakfast croissant while you're there). For a lovely beachside lunch sample the delights of
Boardwalk Bistro
, or, for the ultimate way to spend an afternoon, head to
Noosa Boathouse
, order a couple of cocktails and look out across the water as the time slips by. You will not leave Noosa feeling hungry, I promise.
Image - Food at Noosa Boathouse, Karen Bleakley


Noosa really is the ultimate beach destination where you can combine the great outdoors with incredible eats, delicious wines and fabulous shopping (don't forget to pack your credit card!) Check out
Visit Noosa
to find out more.
Karen Bleakley is a regular travel writer for Australia and New Zealand magazine and the founder of
Smart Steps to Australia
– a website helping families move to Australia and explore their new home. You can find Karen on
Instagram
and
Facebook.

Looking for a great campsite nearby?
Here's
some of our top picks within 2 hours from Brisbane. Check out
Campstay
to find a campsite for your next holiday destination.
Do you own an RV? Interested in learning how Camplify can help you turn your caravan, camper or motorhome into $5000 - $35,000 per year? Learn more about how Camplify works for owners here
To find out how Camplify can work with you and your RV, register today here.
This article was posted in –
There are 0 comments on this article
The Wireless
Get the latest Camplify news by simply entering your email address