Stuck for gift ideas for this Christmas? Got a family member or friend that LOVES camping? Check out our list of different and handy camping gift ideas!



1. Popcorn popper


Love to camp but also love to enjoy popcorn? You can now combine your two loves into one awesome popcorn campfire popper! Perfect for eating popcorn under the stars for an after dinner snack! You can buy one similar
here
for Christmas.

2. Camping Firewood Carrier


A very simple gift that will make someone's life a lot better! Take the pain away from your wood gatherer with this awesome firewood carrier with handles!You can buy one like this
here
for Christmas.

3. Mini Screen Projector


Yes we all love the great outdoors, but sometimes you NEED to watch that show you've been watching for weeks. Now you can with this mini projector! Super handy because it's small and lightweight! Make the kids happy and buy of these for Christmas! You can buy one similar
here
for Christmas.

4. Camping Espresso Mini Coffee Machine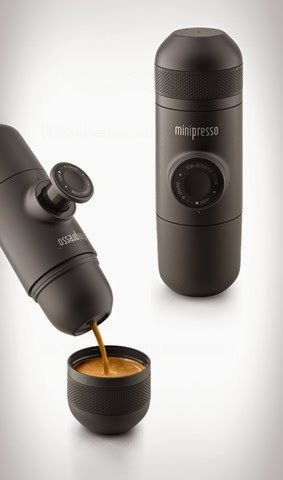 You don't need to miss out on good coffee whilst you're camping. Chuck out the instant coffee and get one of these mini coffee machines for your camping adventures. Buy one similar
here
for Christmas.

5. Camping Shish Kebab Baskets


Chuck your favourite veggies in these and place them over a campfire! No need for skewering! In just a few minutes you'll have a delicious charcoal bbq meal! Buy one similar
here
for Christmas.

6. Floating Camping Tent


Scared of snakes, bugs and anything else Australia has to offer?! Then you NEED this tent! Also perfect if you want to camp in location where the surface is uneven or over water! Our only question is how to you get up there?... Buy one similar
here
for Christmas.

7. Car Seat Organiser


Seriously if you haven't got one of these yet you are crazy! They are perfect for putting all those bits and bobs in place where they can't be lost or roll under the front seats. Organise your kids toys and keep your car organised! Buy one similar
here
for Christmas.

8. Wireless Electric Brake Controller


Want to tow a caravan but don't have an electric brake controller fitted to your car? You can buy this bluetooth brake controller without needing to hard wire it into your car! Giving you freedom to change tow vehicles! Check them out
here
for Christmas.

9. Pocket Camping Shower


Don't have a shower in your camper trailer or van? Now you can take a 7 minute shower whenever you need to! Yes 7 minutes! This pocket sized camping shower is made from heat resistant water-proof fabric, it can hold 10 litres of hot water and it folds up to fit in your pocket! Buy one
here
for Christmas.

10. Camping Light and Fan Duo


You need one of these for summer! Sit outside at night and let the fan cool you down whilst reading a book under the light. This fan light does two very important jobs in the one gift! Perfect! Find one similar
here
for Christmas.
Our top 10 gifts awesome camping gifts to buy for Christmas!



Do you own an RV? Interested in learning how Camplify can help you turn your caravan, camper or motorhome into $5000 - $35,000 per year? Learn more about how Camplify works for owners
here
To find out how Camplify can work with you and your RV, register today here.
This article was posted in –
There are 0 comments on this article
The Wireless
Get the latest Camplify news by simply entering your email address