Looking to go fishing, hiking, or relaxing in Northern Queensland? Then you'll want to know the best beachside camping spots!


From South heading North, these 10 camping spots are located smack bang on the water's edge and are all priced under $40 a night!


Cape Hillsborough National Park - Smalleys Beach camping area
If you are looking for a secluded and relaxing camp spot on the North Queensland coast, Smalleys Beach campground is the go-to. Large camping sites are shaded by eucalyptus trees and surrounded by lowland rainforest, with easy access to various walking trails and a picturesque beach.


Cardwell Beachcomber Motel & Tourist Park
The Cardwell Beachcomber Motel & Tourist Park is conveniently located on the beachfront midway between Cairns and Townsville. Cardwell is a boaties paradise, with miles of sheltered creeks and waterways to explore and numerous reefs and islands offshore. The park not only accommodates for boats, but your furry friends are welcome too!


Mission Beach Hideaway Holiday Village
Mission Beach Hideaway Holiday Village really does have it all. Ideally located across the road from a coconut palm lined sandy beach, and a short stroll to a number of fantastic cafes & restaurants. The park is also located remarkably close to Dunk Island, which is the perfect opportunity to take a day trip on a water taxi (book at reception). The park features a large pool, games room and spacious sites.


King Reef Resort Hotel & Caravan Park
King Reef Resort offers much more than just accommodation. Situated on the beachfront of Kurrimine beach, the resort also offers casual beachfront dining with remarkable ocean views. Choose from the delicious modern Australian menu while taking in the sights and sounds of the ocean. The kids will be kept entertained too, with a swimming pool, water fun park, playroom, and flying fox all on site.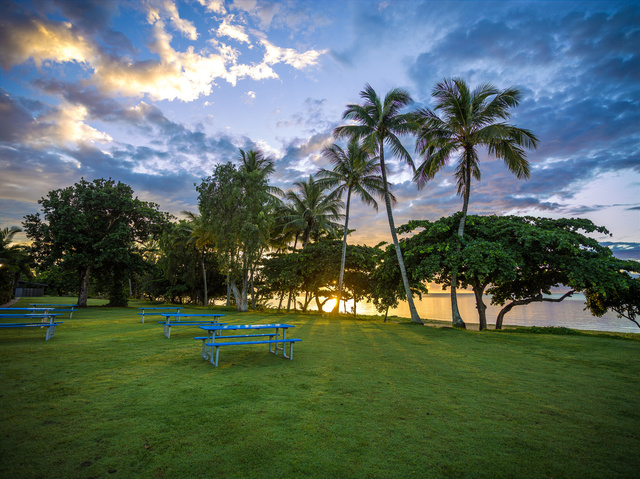 Kurrimine Beach Holiday Park
If there's one thing Kurrimine Beach Holiday Park is known for, it's how much it is loved by the whole family. Along with a flying fox, resort-style pool and water park, there are glass bottom canoes and bikes available for hire. The quiet, long, beach alongside King Reef is the main attraction and it's here that you can see Manta Rays trawling the beach shallows and turtles coming in to nest.


Cowley Beach Caravan Park
Set on 7 acres, Cowley Beach Caravan park includes a camping ground and beachfront reserve. The park is pet-friendly and welcomes everyone, catering for small tents to large motorhomes. The park is renowned for its easy access to great fishing spots, including Liverpool Creek and King reef.


Camp Bramston Beach Campground
Bramston Beach, located just one hour from Cairns, is the perfect place to escape the crowds, switch off from technology and go fishing off the beach, spend hours making sandcastles and collecting shells or just sit around the campfire with family and friends. Bramston Beach campground has plenty of powered and unpowered shady sites as well as amenities, BBQ's and a children's playground.


Fitzroy Island Camping
Like the idea of camping in a National Park... on an island… on the Great Barrier Reef? Well then you should look no further than Fitzroy Island Campground. The small island features abundant marine life and local wildlife, a fantastic cafe & bar, magnificent walking trails, and snorkelling and kayak hire. While the average hotel room prices are upwards of $200, a spacious campsite on the island is just $35 per night!


Cape Tribulation Camping
Cape Tribulation Camping is certainly considered one of the best campgrounds in the Daintree. There is a range of beachfront camping options ideal for families or couples, with access to pristine facilities and free BBQ's. Between the ideal location and delicious on-site restaurant, you really can't go wrong. Be sure to try one of their renowned wood-fired pizzas!


Home Rule Rainforest Lodge & Camping - Cedar Bay
Located just outside Rossville, Home Rule Rainforest Camping is the ideal place to explore the rainforest of the Northern Wet Tropics. Along with rainforest walks and access to Cedar Bay, the property is embraced by the crystal clear waters of Wallaby Creek which offers year-round crocodile free swimming! Home Rule also hosts the annual Wallaby Creek Festival, a 3-day celebration of music and the arts.



Do you own an RV? Interested in learning how Camplify can help you turn your caravan, camper or motorhome into $5000 - $35,000 per year? Learn more about how Camplify works for owners
here
To find out how Camplify can work with you and your RV, register today here.
This article was posted in –
There are 0 comments on this article
The Wireless
Get the latest Camplify news by simply entering your email address