Here at Camplify, we're all about sharing the caravan love, which is why we'd like to share with you a lovingly compiled (if not entirely truthful) history of these glorious little mobile adventure homes. It's no secret why people love caravanning so much. The great outdoors is something that calls to us like some howling ancestral beast deep within our hearts, but who wants to sleep in a swag, am I right? Even celebrities are not immune to the charms of life on the road – famous Caravanners Include: Jimmy Barnes, Layne Beachley, Matthew McConaughey and The Wild Thornberries.



Do you own an RV? Interested in learning how Camplify can help you turn your caravan, camper or motorhome into $5000 - $35,000 per year? Learn more about how Camplify works for owners
here

History of the Original Caravans


Image Source: pinterest.com


Believe it or not, caravans weren't originally invented just to slow down traffic behind them. They were originally the homes of nomadic people such as the European Romani or Gypsies (think more Esmeralda in The Hunchback of Notre Dame, less Brad Pitt in Snatch) and travelling showmen & women. They were made of timber, dragged around by a few horses and were lucky if they had a wood burning stove inside (sounds a bit dangerous, but anyhoo). Eventually these wooden wagons spread worldwide, including to the wild west of America and were often used by travelling preachers and John Wayne. The first recorded recreational caravan was built in 1880 for Scottish author Dr William Gordon Stables. He travelled around the British countryside in his 18 foot 'gentleman's caravan' and probably stopped at a few Big4's along the way to have a bounce on the giant pillow.



How Caravans & Cars Evolved


Image Source: pinterest.com


When motor cars began to replace horse drawn carriages at the turn of the century, caravanning for leisure really took off and the first caravan club was founded in England in 1901 (right around the time we were forming our own little club down here). It was at the turn of the century that a few Aussies began to make their way out bush in their own homemade caravans, no doubt in search of the nearest Ettamogah Pub or the Big Prawn. Until the 1920s, the humble caravan was pretty… well… humble. Initially, they were just built out of wood and canvas and lacked even the most basic of necessities, such as dishwashers, curved LED TVs and solar powered Nespresso machines.



The First Motorhomes


Image Source: maggiolinomane.blogspot.com.au


In the early 20th Century as automobiles were really taking off, campers in Europe and the USA began fashioning their own RVs. These were essentially just big wooden boxes plopped on the back of trucks and cars, but pretty soon manufacturers were custom building mobile homes for people who were willing to saw the back off their family car.



Golden Age Of Caravans - Vintage Caravans


Image Source: vintagecaravans.com


The 1920s & 30s saw the real birth of caravanning for the middle classes. Families had the time and the money (and the car) to take a caravanning holiday. Mostly, people would just set up camp wherever they pleased, but many official caravan sites also popped up during this time. During WW2 however, many caravan manufacturers collapsed. Even in the years following, petrol rations and nation rebuilding pushed caravan holidays to the back of most Australians' minds.


From the beginning of the 1950s however, caravans began their resurgence and with affordable family cars like the FJ Holden, Australia rekindled its love of caravanning. While America was saying hello to the streamlined aircraft aluminium built Airstream, Australians were cruising around in their Pathfinders and tiny Teardrops. Many caravans from the 1950s-1970s are still around today, lovingly restored by vintage caravan enthusiasts. The rest have been gutted and painted baby blue by hipster coffee and doughnut vendors (nothing wrong with that in my opinion, as long as the doughnuts are delicious).



Caravans Today are making History


Image Source: australiancaravans.com.au


Unlike early last century when recreational caravanning was just picking up steam and there wasn't a whole lot of choice, today's market is flooded with all kinds of different manufacturers and designs to suit any budget or camping style. Whether you're after the simplicity of a small, off-road camper trailer, or the luxury of a grand motorhome with cable TV and a rain shower, there is an RV out there for everyone. A far cry from the wood burning stoves and stained glass windows of yesteryear, today's caravans are decked out with all kinds of mod cons and up-to-date technology, including electronic stability control, LED lighting, independent rubber suspension, solar power and fancy toilets that would make your real home jealous.



Caravans in the Future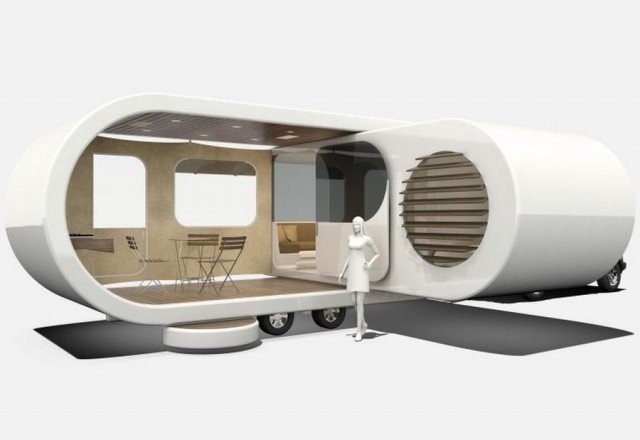 Image Source: wordlesstech.com


Forget your pizza ovens, washer/dryer combos and rooftop jacuzzis. The caravans of tomorrow are looking like some serious space age specimens. We're going to see amazing features like fingerprint entry and detachable cars. Having trouble deciding whether to get a boat or a caravan? You could have both with an aquatic caravan that's at home on the water as well as the road! Aside from more luxurious features, the caravans of the future are sure to be lighter, shorter and more stable than ever.


Another amazing advancement in the world of caravans has been the growth of our sharing economy and the way caravan owners are now putting their vehicle to good use while at home. Camplify has enabled all sorts of RV owners to share their love of camping, allowing their pride and joy to be enjoyed by others who might never have had the opportunity to take a caravanning holiday.


Now that we know just how far caravans have come, we're so excited to see where they're going in the future.



Do you own an RV? Interested in learning how Camplify can help you turn your caravan, camper or motorhome into $5000 - $35,000 per year? Learn more about how Camplify works for owners
here

To find out how Camplify can work with you and your RV, register today here.
This article was posted in –
There are 0 comments on this article
The Wireless
Get the latest Camplify news by simply entering your email address