5 years ago I dreamt of travelling Australia. I wanted to teach our kids what's really important in life and to have an entire year of family time, to growcloser together as I felt us drifting apart more and more. The initial idea was to leaving Melbourne on my 40th birthday in December 2016 and return on my husband's 40th birthday in December 2017. We hired a caravan for Christmas of 2015 to give it a try and see if it really was something we wanted to do; for me 2 weeks simply wasn't enough, I was hooked.


2016 was a life changing year for me; a very dear friend of mine, Trev, received the news his cancer had returned and this time it was terminal. Being faced with this situation really shook me up; I looked at everything differently from that moment on. Around this time my marriage had come to a point where we made the decision to separate, it was devastating for all of us but we promised each other to remain friends, we still are [friends] and we are pretty awesome parents too, I couldn't be more proud of the two of us.



I had been living life stuck to the ground, literally, I was living in a moonboot to try to fix a foot issue I had had for over 10 years, life was hard, emotional and very real and it was only February! So after the separation I took the big trip off the table, I knew within myself it would be to tough to caravan around Australia with the kids (ages 4 and 7) by myself, the setting up and packing up alone would send me crazy, let alone the cooking, care, school work, navigating and driving (it was supposed to be a trip where we would have loads of fun with little stress!)


I carried on with life and did my best to figure out how to be a single Mum. It was tough but I knew we were all better off. I would spend 1 weekend a month with Trev, he helped me through my stuff and I helped him have fun. We would chat often and always look forward to planning the next adventure. We watched the sunrise over the shrine of remembrance, went hot air ballooning, booked a cruise to Vanuatu, watched the footy, took a weekend away to the Grampians, climbed mountains, watched the sunset, as the year went on Trev got too sick to do anything. He gave me the honour of taking care of him in his final days. My ex-husband gave his total support, taking over at home while I was in the hospital with Trev. Early November Trev passed away, I found myself numb and a bit lost, I knew Trev would want me to live as he so desperately wanted to, it's so tough when you lose someone special.


December 2016; I'm 40 and no trip around Australia in sight; I go on the cruise without my best friend, having plenty of time to think. When I returned home my ex-partner and I decided to put the house on the market, and so it began. We sold the house and I found a motorhome that suited the kids and I perfectly. My 4 year old is a climber, I had visions of him making a cup of Milo or getting games out as I was driving and being the only parent I would have to pull over to deal with it. I loved this motorhome because I felt safe and secure; it's a duel Cab so when we drive it's the same as being in a car, when we stop we get out and into the living area, it was perfect.


April 7th 2017 and we are on the road!!! What a feeling, so free, so strange, I remember once I thought I forgot the kids' helmets then remembered everything we have is in the back. We spent the next month travelling around Victoria, it was familiar to me and I gained confidence over the month, we all adjusted well to our new life and popped back every other weekend so the kids could see their Dad. Without the kids' Dad's support I couldn't have done this and I thank him very much for allow this amazing trip to happen.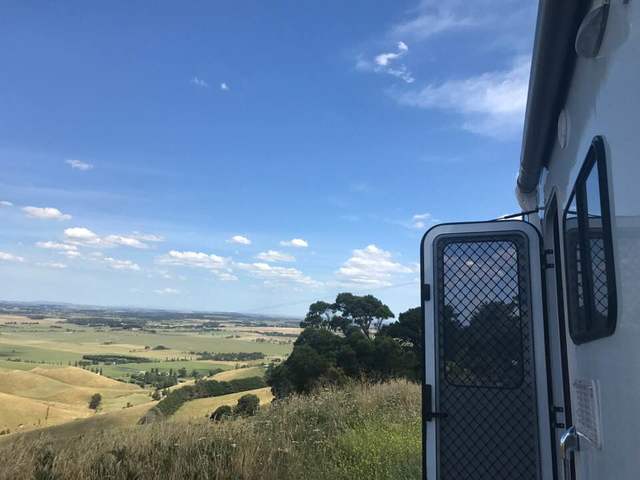 Much to the family's horror I didn't really have a plan, I had ideas but felt like when I got to certain places I would find my way to the next. Maybe some might think it's irresponsible but for me that's what the trip was about, I didn't want a deadline or feel like "I have to be here at this time or date". So my plan was to head West across the Nullarbor and get to Perth sometime in June to see my sister. I had no idea once I left Ceduna I would have no contact with anyone until I came out the other side of the Nullarbor, almost 3 days later. You should have seen how many calls and texts I had when I finally got service! Lesson learnt when I got to Perth, I purchased a Telstra sim card (which I never ending up using).


Over our 9 months on the road we travelled 26,000kms, some roads were flat and lifeless which is not a bad thing. Other roads took all the concentration I had, like the Snowy Mountains, but the smells, sights and sounds in there were beautiful. Then you have the East Coast – the drive between Cairns and Port Douglas is so picturesque, you have to see it to believe it! We travelled between 9am and were off the road by 4pm at the latest to avoid any run ins with wildlife. There were still a few encounters, Kangaroos are a big worry, sheep around Exmouth area and cattle across the top and buffalo near to Kakadu. We saw a few snakes, only from the car, thank goodness, and had a few close encounters with crocodiles at Cable beach in Broome. I travelled at 5-10kms under the limit for best fuel economy, the Northern Territory is 130kms/ hour on the highways, I was well under that!


There were so many amazing adventures, the greatest was swimming in the Great Barrier Reef with big Wally. We also loved Zebra Rock Mine, Northern Territory and one of our few unpowered stops (I need my coffee) was a little family run business with rock that's found nowhere else in the world! The place I felt I could live was Coffs Harbour, I loved it there, we stayed at Emerald beach just north of Coffs and the coastal walks are incredible! I'll paint you the picture; rolling hills that show the magnificent cliff tops and around each corner is a new more spectacular beach below, all the while walking through loads of kangaroos, minding their business, relaxing and soaking in the amazing views. You could travel this beautiful country of ours for years and years and still not see it all, I felt most connected when we were disconnected, National parks with no service or anywhere from The Tropic of Capricorn up, it's all stunning.


I can't wait to get out there again and explore more wonderful amazing places, I see the impact the trip has had on the kids. They are now little explorers who love to spend time outdoors and don't need material items anymore. They had a bedroom each in our old house and would argue about the other one coming into their space, now they share a bedroom and hardly argue, they appreciate things more than before. I love that change in them! I also love they don't ask me for things anymore, they ask to go places, their outlook has changed, as has mine. The thought of resuming life as it was horrified me so I decided to keep the dream alive and do things differently. I haven't gone back to my business, instead I created a new one and I'm now hiring out my motorhome for others to share in the experience. It makes me happy to think I share the joy with others families, couples or small groups and it allows me to have more time with my kids.


I have changed a lot, it took me 3 months to feel like i was meant to be on the road, another 3 months to say "I've got this" and the last 3 months were total bliss. I'm not as stressed, I feel more connected to life and my kids, I see life differently and for the better. For me life is about adventures, not work and I'm so proud of myself for giving my kids and myself a new outlook on life. Live Life Love.


You can hire Faith's amazing motorhome
here>

To find out how Camplify can work with you and your RV, register today here.
This article was posted in –
There are 2 comments on this article
Loretta Kelly
Jan 13, 22:44 PM
Sounds like you created some amazing memories with your kids - exactly what I wanted to do but a new job has got in the way. Now looking to just do lots of little trips until I can afford to quit work.
Kristen Rae
May 19, 08:06 AM
Thank you for this article! I am a single mum to a five year old boy and I've just felt the call to move into a caravan and travel around Australia with him in 2020! It's great to see other single mums who have done it too.
The Wireless
Get the latest Camplify news by simply entering your email address