Do you own an RV? Interested in learning how Camplify can help you turn your caravan, camper or motorhome into $5000 - $35,000 per year? Learn more about how Camplify works for owners here
Here's How the Australian Tax Office (ATO) Handles Tax on Sharing Economy Income from Camplify
Exciting news for anybody looking to earn money from the sharing economy in Australia! Camplify has formalised a first-of-its-kind ruling with the Australian Taxation Office, allowing owners who list and hire out their caravan, camper or motorhome on our platform the opportunity to claim tax deductions.


This means that owners now have clear guidelines on how tax can work for them – whether you're hiring your RV for a few nights per year, or buying one and hiring it out purely as an alternative investment vehicle.

How tax works with Camplify and the sharing economy


Whether you're hiring out your RV on Camplify already, or you're looking to buy an RV to hire out for extra income, you'll need to understand how tax works. Download our free Camplify tax pack below and read it carefully to ensure you're well-informed!
Tax and the Sharing Economy
Whether you knew it or not, the sharing economy and tax come hand in hand. Just like all other income you earn or receive, the taxman inevitably wants his cut from earnings made through the sharing economy too. And because the ATO are now using new, enhanced data matching measures for the sharing economy it makes it harder for taxpayers to slip through the net or hide income that they should be declaring. So if you didn't realise you should be paying tax for your RV sharing economy income that you receive from Camplify, you do now and it's time to get prepared.




Tax Implications For Sharing Your RV


If you're already sharing your RV with Camplify, the money that you receive from your hires is classed as income by the ATO. This means you'll need to declare it just like any other income you receive. Its treated exactly the same way as if you were a Sole Trader or a company selling or trading goods in exchange for monetary income. If you have a regular job too, your earnings from this and your sharing economy income will be added together and taxed as a whole. The good news is, you can claim a substantial amount of tax back from your RV costs, keeping your sharing venture a profitable and worthwhile one for you moving forward.


For more information on what income you need to declare to the ATO
click here
.
Tax Benefits Of The Sharing Economy


The saving grace of using a sharing platform like Camplify to hire out your RV is that you're eligible to receive tax deductions on your costs associated with your RV whilst it is out on hire and all of your earnings can be found in one place, on your owner dashboard. Any fees or commission charged by us can be claimed as a deduction as well as maintenance, depreciation, finance, storage, cleaning, repairs and even internet or home office usage and any other fees associated with hiring it out on Camplify. You can't however include costs that are incurred whilst you are using it for personal use. If you have bought your caravan or motorhome for the sole purpose of hiring it out with us then that means all costs associated with it are tax deductible and you'll see more from your investment.




Tips On Paying Your Income Tax


There are ways to help you pay your tax if you think you may struggle to pay a big bill at the end of the tax year. For instance, if you've worked out what you'd expect to earn in the next year, you could make a 'Tax Prepayment' to the ATO under your Tax Return Account to help you out. You can pay in as much or as little as you'd like and as many times as you want before the end of the tax year. Doing it this way means you won't have to face that dreaded tax bill all in one go, especially if you haven't accounted for it and put income aside to pay it. And no need to worry about overpaying, your payments will stay on your account until you've had to used them or until you request a refund.


Another useful offering from the ATO that could really help you keep track of your tax payments is 'Pay As You Go Instalments' (PAYGI). This lets you pay your tax quarterly based on what income you've worked out you've earned so far during the tax year. Any overpayments get refunded to you when you send in your final tax return and any underpayments would be tiny in comparison to the full year amount so it's a win win.


Buying an RV For Investment Purposes
If you're thinking of buying a caravan or motorhome just to hire it out and earn some extra cash then you'll be able to claim back tax on all costs associated with your RV and with hiring it out through our platform.
RV Owners can expect to receive a varied income depending on the type of RV they own:


Camper trailers can earn between $280 - $630 per week
Caravans return between $560 - $980 per week; and
A luxury motorhome can bring in between $840 - $2100 per week
When do you need an ABN?
The only times you will need to apply for an ABN is either:


When you are using your RV for income purposes only and not for personal use at all
If you're trading under a company name for your RV hire income
If you're managing other people's RV hires
If you have more than one RV that you receive income for.

If you don't come under any of these categories then you don't need an ABN.


When do you need to pay GST?
GST or Goods and Services Tax is only applicable if your total gross income is $75,000 and above. This applies whether or not you are a sole trader or operating under as company, it's all about the amount of gross income here. So if you have two or more RVs that you're sharing on Camplify and earning over $75,000 along with any other income you receive, you'll not only need an ABN but you'll need to pay GST too.



How is GST worked out?



How do I account for GST in my RV hire prices?


The best way to account for the GST that you'll need to pay the ATO is to add it to the price of all your hires so that you aren't reducing the amount of profit you receive. Of course, you'll still need to remain competitive in the market and with other Camplify RVs so you'll need to decide the minimum amount of profit you're prepared to gain in order to still get those bookings coming in. A big recommendation from us is that you put aside any GST you collect from your sales/bookings as it will help you seperate your profit from your turnover and you won't be so disappointed when the taxman comes calling!


What Tax Deductions Can I Claim From My Sharing Economy Income?
If you're earning income from the RV sharing economy you may not have a clue what deductions you can claim back on tax. You'll be surprised to know that it can be quite a substantial amount depending on how much is apportioned between your personal use and how much earned from sharing.



How to work out what to put in a claim for


Here's a case study put together by our friends at Growthwise to show how you can work out what to put in a claim for your Camplify RV listing income.


Case Study


The Chief decides to purchase an RV with his wife Pam. They are going to use the RV for 8 weeks of holidays during the year with their 3 kids. The rest of the time the RV will be listed on Camplify's website for Hire. The Chief hires his RV at $650 per week for 22 weeks of the year on Camplify. Let's take a look at the tax position for The Chief and Pam...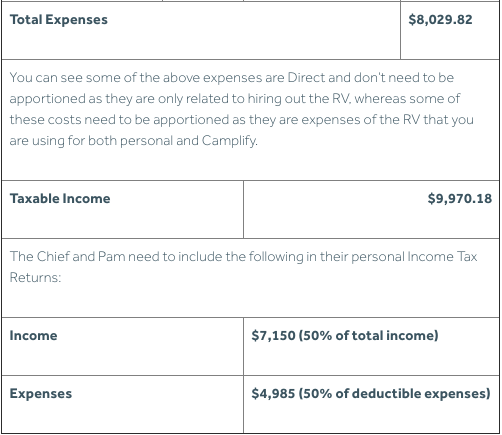 *Case Study put together by Growthwise for Camplify Owners.


Try the Camplify Tax Calculator
To help you work out your tax and deductions, the team at Camplify have created an incredible calculator tool to do the hard work for you. Just visit the Tax Calculator, enter all the required details and we'll email a full breakdown of your tax and deductions to use for your



Keep Records Of Everything!


If you're claiming tax deductions you will need to provide proof of absolutely everything with your tax return so that the ATO can decide whether they agree with your claim. To make it easy for yourself we advise that you file all your invoices from Camplify and note down how much GST is included, if this is applicable to you, along with all the receipts and bills for your costs associated with your RV that you are claiming for. It really pays to be organised so that you don't have a last minute panic when your tax return is due. It also means you won't miss out on deductions because you'll have proof of everything at hand.


Do you own an RV? Interested in learning how Camplify can help you turn your caravan, camper or motorhome into $5000 - $35,000 per year? Learn more about how Camplify works for owners here
To find out how Camplify can work with you and your RV, register today here.
This article was posted in –
There are 0 comments on this article
The Wireless
Get the latest Camplify news by simply entering your email address