So the sun is shining, the water is heating up, the kids are getting restless. Lucky Camplify is here to help you plan a fantastic holiday this summer. Our top tip however is don't leave it too late as family friendly RVs get booked very early!


So what should a family friendly RV have? Well that depends, the perfect RV for you family might be different for others. So we have tried to create a list that caters to lots of different families. No matter if you are looking for a cheap camper trailer holiday, or a luxury motorhome adventure, you can find it on Camplify.
To help I have compiled a list of family favourite RVs. Lets jump in!

1. Camper Trailer - The Swan Getaway


Located in Newcastle, this 2015 Jayco Swan is for hire from Angela. It weighs only 1097kg which means it can be towed by most family cars and it sleeps 5! If you have never been camping in a popup camper I highly recommend it.

2. Pop Top Caravan - Bunk Van


Located in Shellharbour on the NSW South Coast, this 1999 Jayco Starcraft Pop Top caravan has everything your family needs for a sweet getaway. Fitted with bunks for the kids and a queen size bed for mum and dad, this pop top is amazing value priced from $60 per night.

3. Caravan - Luxury on Wheels


Found on the outskirts of Sydney in sunny Bowen Mountain is this super luxury caravan. The name says it all! This caravan setup has A/C for the hot summer days, stove, oven, toilet, shower, microwave, TV/DVD, Radio, 3 way fridge (which mean it can run on Gas, Electric and 12 volt)

4. Expanda/Hybrid Caravan - Expanda 14.44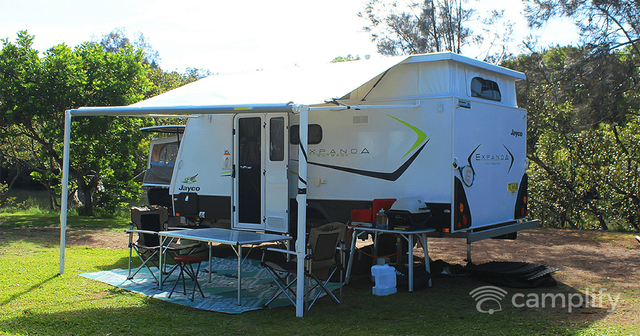 Stored in Warriewood, this 2014 Jayco Expanda is a family favourite to the Camplify community. Sleeping 4 and setup with everything you could ever need, this Expanda offers a great easy family holiday. If you are new to caravaning, Jayco Expanda's are a great way to start and offer excellent features for families. Peter, the owner, will look after you and pricing starts from just $80 per night.
Check out this review from Sally:

5. Motorhome - Wollongong Motorhome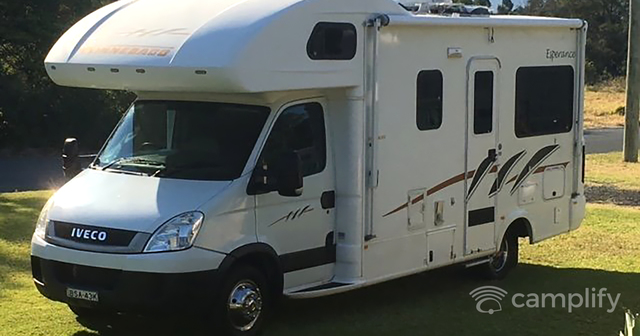 When I say family motorhome you say "Winniebago". The brand linked the world over with luxury family RVs can be hired from Kellie in Dapto for just $180 per night. Enjoy the luxury of a fully fitted out Motorhome that is equipped ready to Free Camp. It comfortably sleeps 4, with a double bed above the Cabin and a Queen size Drop down bed at the back of the van, which hides away when not in use to give more space in the van for day to day use.

6. Go Retro - Vintage Glamper Van


Check out this one of a kind vintage 1988 Millard caravan in Warriewood NSW. It's just like Nan and Pop used to have but lovingly restored. You wont find anything like this for hire anywhere but Camplify. Be the coolest person in the caravan park this summer with this awesome family friendly caravan.

7. Now for Something Completely Different - The Britstop - Big Red London Double Decker


Yes you read that correctly. This is a vintage double decker London big red bus that has been converted for camping. Do you want something unique, and want to be the talk of the caravan park? Tick and tick.

8. The Ultimate Camping Experience - Ultimate XPLORGT


Gladsville NSW. One of the great things about the sharing economy is having access to others equipment for just a fraction of the cost. This 2016 Ultimate XPLORGT is one serious camping experience. This tent camper has 4 berths with spare room for extra beds, awnings, annex, leather lounge, indoor and outdoor kitchen, fridge, running cold and hot water, solar.

9. What Do You Call a Caravan That Can Do it All? The Jayco Base Station


Sleeping 6 and enough room for the bikes, a quad, who knows whatever else you can chuck in there, the basestation can handle it all! The Base Station is great for those families and friends who love camping and taking their toys with them, such as motorbikes, push bikes, kayaks, etc, plus fits the whole family.
It has 6 berths with TV, pullout awning, stereo, solar panels, slide out lounge and other amenities. Not only that but it is brand spanking new. Go see Luke from Capalaba in QLD to plan your outdoor experience.

10. Aussie Offroad Adventure - Patriot Campers X1GT


Manufactured on the Gold Coast, the Patriot might just be one of the toughest campers on the market. This go-anywhere-machine is setup to do just that. Chris the owner from Brendale, QLD has set himself up with Camplify's off-road insurance policy to enable families to experience all the Patriot can offer.

11. A Caravan Just Like Mum and Dad's - Sunny Caravan


While you can have everything when caravaning and camping, sometimes you just want the simple things. Well Sunny is just that wrapped up in a neat little bow. This 1973 Evernew caravan has been lovingly restored by Kylie in Barwon Heads Victoria.
Well that's our top 11 family friendly RVs. It doesn't matter what setup you go for. The most important thing is to head off into the sunset with your family and friends and create those memories your kids will be talking about forever.
So what is Camplify?
We are Australia's largest caravan hire and RV sharing community, in partnership with the NRMA, helping connect thousands of holidaymakers with RV owners.
What does that mean?
Essentially, we provide a unique sharing service where owners of caravans, camper trailers, motorhomes, and campervans list their RV for hire while not in use. As an owner, this enables you to earn some serious dollars instead of having your RV just sitting around while you're not using it.
As a holidaymaker, Camplify helps you find an RV that is perfect for you so you can experience the joys of caravanning - without having to own one yourself.
Interested? Learn more about Camplify
here

Do you own an RV? Interested in learning how Camplify can help you turn your caravan, camper or motorhome into $5000 - $35,000 per year? Learn more about how Camplify works for owners
here
To find out how Camplify can work with you and your RV, register today here.
This article was posted in –
There are 0 comments on this article
The Wireless
Get the latest Camplify news by simply entering your email address