Trip In A Van has seen a lot of Australia! The family of 5 has just come back from a 2 laps over 2 years! Here's their top spots to park up with your caravan in Victoria, Australia!



Do you own an RV? Interested in learning how Camplify can help you turn your caravan, camper or motorhome into $5000 - $35,000 per year? Learn more about how Camplify works for owners
here

Halls Gap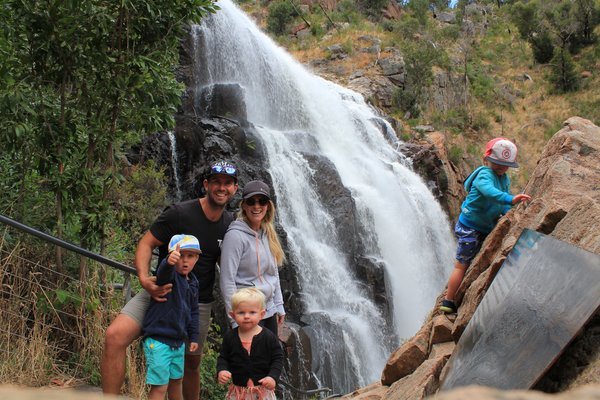 Halls Gap is a small tourist town located in the Grampians National Park. We pulled our van up at the
BIG4 Grampians Parkgate Resort
and enjoyed the beautiful bush surroundings. The kids were entertained with the large pool, tennis courts, playgrounds and more!
And it's only a short drive from the gorgeous little village and has an array of activities such as walking trails, wildlife, mountains and waterfalls, you'll most certainly fall in love with this place! Be sure to get to The Pinnacles, Mackenzie Falls, Boroka Lookout or Halls Gap Zoo!


Barwon Heads
A bustling seaside town on the Great Ocean Road,
Barwon Heads Caravan Park
is not to be missed. With beachfront sites available, you can sit by your van and take in the views of the ocean. Only a short stroll to shops and cafes, the park is located in a very convenient position. Great for kids with a playground, oval and the beach at your doorstep! The ideal place to slow down, have a fish, SUP or surf, dine and soak up the coastal scenery! Also, a great base to get around and see the sights of the Great Ocean Road with Torquay and the 12 Apostles nearby.
Lorne
A quintessential coastal town known for its popular surfing spots, shops, cafes and lookouts. If you enjoy art, you'll get a taste of it from the community with its gallery and sculptures.


The
Lorne Foreshore Caravan Park
is the perfect place to park up your caravan as it's only a short stroll into town. If you're up for some adventure, the beautiful Erskine Falls are nearby and the Great Otway National Park. Teddy's Lookout is definitely worth a look with sweeping views, there is plenty to see and do in the area!
The Lorne pub
does a great feed and the foreshore area is excellent with loads to do. The Lorne Sea Baths has kids activities that will keep them entertained all day!
Apollo Bay
This laid back village located in the foothills of the Otways has some serious charm. Situated right on the beach, its yet another beautiful place to visit along the Great Ocean Road. The tourist destination is a great place to park up at the
BIG4 Apollo Bay Pisces Holiday Park
. Plenty to do within the caravan park with the Modular Pumptrack, playground, games room, pool, lovely slab and grass sites and its right across from the beach. Make sure you head down at dusk as it is a beautiful sight to see.
We managed to see lots of wildlife in Apollo Bay. If you're up for some exploring, the Great Ocean walk is an excellent hiking trail. The Cape Otway Lighthouse is a must see, Mait's Rest and the Apollo Bay Museum.


We loved this little seaside town and the caravan park was a big hit with us all.


Tostaree Farm Stay
The amazing farm stay at
Tostaree
is in between Orbost and Lakes Entrance on the Princes Highway. It's one of the best little farm stays around.
A big grassy area to park the van with great views of this beautiful property. There are showers and toilets, a great big fireplace inside and heaps of games for the kids.


The hosts here are Greg & Vicki and you honestly won't find friendlier people than this pair. Greg took us for a tour of the property in the ATV and it's pretty spectacular. Make sure you've got a few spare carrots in your fridge so the kids can feed "Vegemite", the shetland pony.


At only $20 a night, this is great value for a ripper camp. If you've got time, plan for 2 nights here as the Buchan Caves are only 10 minutes up the road and would be a cool day trip to explore! It's also a great base to explore Lakes Entrance.


Mallacoota
Mallacoota is one of the great escapes in the Gippsland region. It's a small holiday and fishing town located on the mouth of the Mallacoota Inlet. The Gabo Island Lighthouse is an attraction in the area as well as its fishing an abalone industry. This pretty coastal town has visitors holidaying for a quiet seaside experience. Surrounded by forests of the Croajingolong National Park and Cape Howe Marine National Park, there are plenty of walking trails to immerse yourself in. The remoteness means it is blessed with pristine waters, secluded beaches and unreal fishing.


The
Mallacoota Foreshore Holiday Park
is one of the largest parks in Victoria being over 70 acres. It has a dozen or so jetties located in the caravan park which keeps all the fishermen happy. The dog friendly park has everything to keep the kids happy and active with a playground and beach only a short stroll from your campsite! A very spacious caravan park and a few minutes walk from everything you need in the main street.
Warrnambool
On the South-western coast of Victoria is a vibrant community and regional centre called Warrnambool. Situated on the the Shipwreck Coast, the major attraction is the whales that visit every year between the months of June and September. Warrnambool is a pretty city, with tree lined streets, lovely beaches, heritage buildings and a large adventure playground.


A fantastic activity to do in the area is Flagstaff Hill Maritime Museum. The Flagstaff Hill precinct is modelled on the pioneer-era and the story of the Loch Ard. It has fantastic heritage building that have old shipbuilders, blacksmiths and candle makers in their working era.


Not far from the
Shipwreck Bay Holiday Park
is Penguin and Middle Islands. This is where the Maremma dogs work to protect the penguin colony. If you get a chance the tour is excellent and also the movie Odd Ball, which it is based on.
The caravan park is in an ideal spot to the Lake Pertobe Adventure Playground, positioned right on the beach, well maintained boardwalk, cafe and restaurant and you can even stroll into town. How good is that!


Phillip Island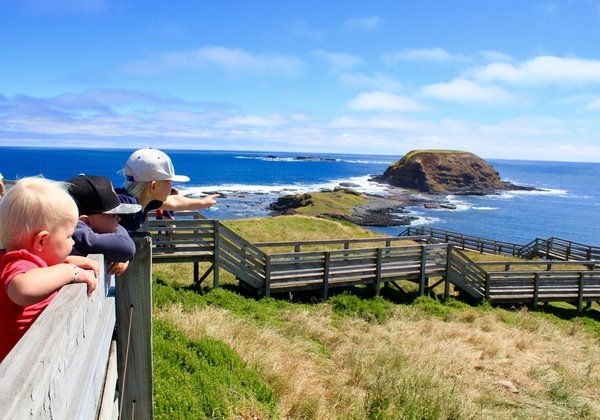 A popular tourist destination only 90 minutes from Melbourne. With iconic wildlife, motor sports and pristine beaches, there is so much to love about Phillip Island.


The bustling town of Cowes is the business district on the Island with shops and cafes for everyone. The beaches nearby are stunning and the popular Summerland Beach is where visitors gather to watch the Penguin Parade. Seal Rocks, which Is home to Australia's fur seal colony, can be viewed at Nobbies. Nobbies Centre is well worth a look also!


The Cowes foreshore is a large grassy area with playgrounds and access to beaches. There's the Koala Conservation Centre , wildlife park and A Maze'N'Things which is a theme park and a very fun day out with the kids!


Cowes Caravan Park
is a great base for all of the above activities. Located right on the beach, with beachfront sites, playground, rec room and kiosk, this caravan park is the ideal location.
Torquay
The
Torquay Foreshore Holiday Park
is situated right by the beach with access from within the park. A jumping pillow and playground with large grassy sites. Over the road from the park is plenty of shops and cafes. If you're up for some serious shopping Torquay is famous for its surf brand outlet shops so there is an opportunity to grab some bargains!
Be sure to check out the famous Bells Beach and the gorgeous seaside town of Jan Juc. The Australian National Surfing Museum is also a must see as it tells a great story of Australia's surfing culture.


Echuca
Echuca is located in northern Victoria and on the banks of the Murray River. Famous for its Paddle Steamers as it was a thriving river port city during the 19th century. The Port of Echuca Discovery Centre is a great day out with historical exhibits. The National Holden Museum is worth a visit if you're into iconic vintage automobiles.


Discovery Parks - Maidens Inn Moama
is an excellent choice in caravan parks. They've got a waterpark, playground and it's dog friendly. On the banks of the Murray River, you can get your ski boat out and enjoy or watch from your site.
If you're wanting more inspiration of some fantastic travel destinations in Australia, check out more on our
blog.


Do you own an RV? Interested in learning how Camplify can help you turn your caravan, camper or motorhome into $5000 - $35,000 per year? Learn more about how Camplify works for owners
here

To find out how Camplify can work with you and your RV, register today here.
This article was posted in –
There are 0 comments on this article
The Wireless
Get the latest Camplify news by simply entering your email address