Article by Camplify Owner, Neil Fahey

As much as I love a good road trip, I never feel like I've really seen a place without getting out and exploring on foot.
Whichever part of Victoria you decide to explore, there are hiking trails to suit every level of hiker. In some part of the state, you can even go from rugged coastal scenery to rainforest gullies and mountain tops, all in one day hike.
There are far too many incredible day hike adventures in Victoria to mention in one article, but here are six of the best.
Cathedral Range Southern Circuit – Cathedral Range State Park
Cathedral Range is a stunning 7-kilometre-long mountain range, surrounded on one side by farmland on the other by dense forest. It's only about an hour and a half north-east of Melbourne, near the township of Buxton.
Its most spectacular feature is The Razorback, a section of sharply upturned sedimentary rock that makes up just under half of this circuit. After an almost rock climb up to Sugarloaf Peak on either Canyon Track or (the slightly scarier) Wells Cave Track, you'll duck and weave your way through the giant boulders to the Farmyard, where you'll descend the range and make your way back to the start point. I don't think anyone has ever hiked this circuit and not wanted to go back and do it again.
Distance: 9 km
Time: 5 hours
Grade: Moderate-Difficult
Ted Errey Nature Circuit - Brisbane Ranges National Park
Another park that's only an hour and a half from Melbourne, Brisbane Ranges National Park is way under-visited and thus makes a great place to get away from civilisation. This circuit hike starts from Stony Creek Picnic Area and you'll soon launch into a long steep uphill trudge. Once you have the most taxing part of the hike out of the way, you can start taking in the incredible views across the ranges, especially from the two lookout stops.
Keep an eye out for the lizards, wallabies and wedge-tailed eagles. If you're a geology buff or if flora is your thing, you're in for a treat with various geological features and an abundance of grass trees and other interesting vegetation along the way.
Distance: 8 km
Time: 3 hours
Grade: Moderate
The Canyon Circuit – Great Otway National Park
While it's hard to beat the coastal views along the famous Great Ocean Road, my favourite place to hike in this region is in the hills behind the popular tourist town of Lorne. Setting off from Sheoak Picnic Area, this circuit takes in three waterfalls – the slightly underwhelming Wonwondah Falls, and then the much prettier Henderson Falls and Phantom Falls. The Canyon itself is one of the Otway Ranges most beautiful and unexpected features, where you'll stroll through a small but deep canyon and wonder at the giant mossy boulders and tree ferns.
Distance:
8.5 km
Time: 3 hours
Grade: Easy
Tidal River to Oberon Bay – Wilsons Promontory National Park
Wilsons Promontory is without a doubt the most spectacular place in Victoria. It's popular with overnight and multi-day hikers, but there are lots of options for short hikes and day hikes too. The return trip from Tidal River to Oberon Bay is a great way to spend an entire day out on the trails and still return to your base camp for the night. Alternatively, you can camp at Oberon Bay and complete the return journey on the second day.
This traverse has a surprise around every corner and you'll even find you get the same effect on the return trip. This coastline is rugged and awe-inspiring and you won't be able to stop yourself from gazing at the offshore islands, especially Skull Rock. As you get closer to Oberon Bay, the landscape starts to seem even more wild and remote. If it's been raining, you may need to get wet feet crossing Growler Creek before you reach Oberon Bay.
Distance: 17 km
Time: 5 hours
Grade: Easy-Moderate
Lerderderg Northern Circuit – Lerderderg State Park
There aren't many places within a day trip of Melbourne that feel as wild as Lerderderg Gorge, and the Northern Circuit is one of the more rugged parts. Starting on Lerderderg Track, you'll descend a spur into the gorge for about five kilometres. From there you'll be off track hiking through the gorge and up Watties Creek (aka Clearwater Creek) for about the same distance. This is where the real fun starts and your progress will depend on how much the creek is flowing. Navigation is relatively easy as long as you follow river and creek, but you will need to keep a close eye on your map to make sure you find the right creek.
Considering the minimal visitors to this part of the gorge, it's the best place to spot wildlife. I've seen wallabies, lizards, echidnas, more snakes than I'd ever like to see, and even goats here. The rock hopping and finding the best path around huge boulders and flood debris is the best part, though. On my most recent trip I gave up and just trudged upstream through the creek. Once you stumble across Lerderderg No. 2 Track heading north-west out of Watties/Clearwater Gorge, it's an easy to follow few kilometres back to the car. Prepare to be exhausted.
Distance: 14 km
Time: 7 hours
Grade: Moderate-Difficult
Mount Bogong Circuit – Alpine National Park
Have you really even been to Victoria if you haven't hiked its tallest peak? I'll let you decide.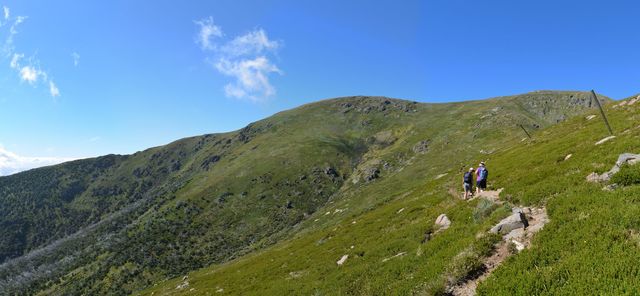 This hike is definitely the toughest of this selection, being the longest at over 20 kilometres and with probably the steepest and most drawn out climb up Staircase Spur. Fortunately, it's called "Staircase" Spur for a reason, and there are some relatively flat sections to break up the torture. When you eventually do make it to the summit of Mount Bogong, the views make every step and every laboured breath absolutely worthwhile. You'll actually feel like you're on top of the world (or at least the state). Enjoy the above-the-tree-line views for another 600 metres, following the snow poles, to the intersection with Eskdale Spur where you'll begin one of the toughest descents I've ever faced. Your knees will be absolutely stuffed by the time you return to the car, so bring trekking poles if you have dodgy knees.
Distance: 20.5 km
Time: 6 hours
Grade: Difficult
The best van to explore all of these hikes in?
Why don't you hire from the author himself?
You can hire 'Roamy' the Campervan from just $100 per night. Located close to the Melbourne Airport, Neil also offers airport pick up and drop off.
This article was written by Neil Fahey.
Neil is an avid adventure traveller, hiker, and camper, who loves sharing his slice of Australia with anyone who wants to experience it. He mainly does this through his website,
The Bushwalking Blog
, but now he wants to send you on the adventure of a lifetime in his camper, Roamy.
To find out how Camplify can work with you and your RV, register today here.
This article was posted in –
There are 0 comments on this article
The Wireless
Get the latest Camplify news by simply entering your email address